Raleigh dentist Dr. Justin Russo does not only focus on award-winning cosmetic procedures, but he's also active in high-quality general dentistry, too!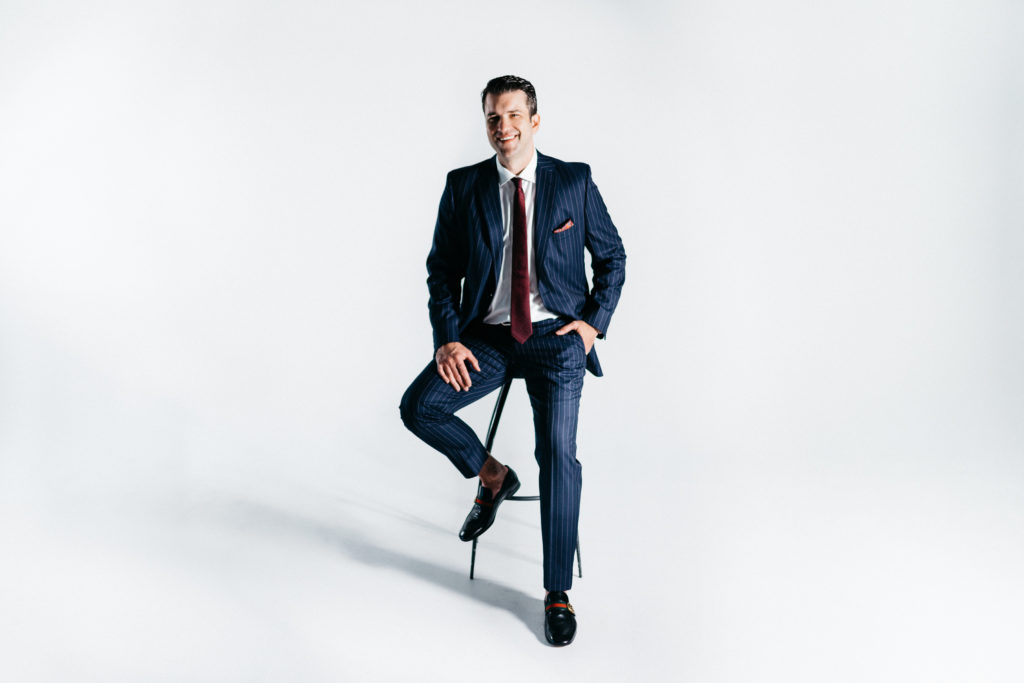 Dr. Justin Russo provides a full-service aesthetic general dental practice dedicated to achieving total dental wellness for all of his patients. Dr. Russo and his highly-trained, professional staff provide aesthetic general dental care for the entire family, with services ranging from dental exams and dental cleanings to porcelain crowns and bridges, root canal therapy, and all dental emergencies.
Dr. Russo believes strongly that there is no separation between aesthetic general dentistry and routine dentistry. He believes that patients should not have to choose between aesthetic routine dental work and cosmetic dental treatment, and wants all of his patients' dental work to look phenomenal.
By attaining a healthy smile, your teeth look great, you will feel great, and be overall a much more confident and happier you!
What is dental bonding?
Dental bonding is when a composite resin is applied to your front teeth to fix problems ranging from chipped teeth, broken corners of your teeth, cavities, enamel defects, and replacement of silver-mercury (amalgam) fillings.
During dental bonding, teeth are shaped and treated with an etchant, then one or several layers of tooth-colored composite resin are added to repair/augment the teeth. Dental bonding is typically performed on front teeth.
Applying dental bonding is a fast one-visit solution to treat your front teeth to an aesthetic result, and can be a lower-cost alternative to porcelain veneers. However, over time the material, the tooth-colored composite resin, can lose its luster and may not reflect light as vividly as porcelain veneers, therefore requiring re-application.
What is a porcelain crown?
A porcelain dental crown is essentially a "tooth-helmet" that prevents teeth from fracturing and can be used to change the size, shape, color, and contour of a tooth.
So, why do I need a porcelain crown?
There are limitations on the size of a filling that a tooth can support. A "filling", by definition, is confined within the tooth. If a tooth has been previously repaired with a filling but has decay, you may be limited by the amount of remaining tooth left to properly support a filling.
What do you mean by saying "a tooth can support a filling"?
I tell people all the time I can make a beautiful tooth-colored filling on your particular tooth, but where you run into problems are when you want to chew on the fillings.
Certain factors need to be taken into consideration when recommending a crown or a new filling, such as the demands placed on the tooth, and if the patient has a habit of clenching and grinding their teeth. Raleigh cosmetic dentist Dr. Justin Russo has placed thousands of dental crowns and is very well versed in educating you on your options for beautifying and restoring your teeth to health.
Sounds great – but crowns are expensive, right?
Sure, crowns cost more than a filling. However, if you push the limits and get fillings that are too large and they start to decay or fail, you will more likely than not require even more of an invasive treatment such as a root canal. This could have been prevented by crowning the tooth sooner.
What is a dental bridge?
A porcelain dental bridge a.k.a. a fixed partial denture is an option to replace a missing tooth. Dental bridges is a false tooth (pontic) set between two porcelain retainer crowns, which "bridges" the gap caused by missing teeth. Bridges were the standard of care years ago before dental implants became mainstream for all missing teeth. Fixed dental bridges are primarily used in cases where they serve an advantage for an enhanced cosmetic look, and also in areas where the bone is severely limited for the replacement of a tooth with a dental implant.
Dental emergencies can happen to anyone. A dental emergency can range anywhere from:
An accidental tooth knockout
A lost filling
A crown that fell out or has become loose
Mouth swelling
Bleeding gums
A chipped tooth or cracked tooth
Spontaneous tooth pain
Mouth sores
…Even an important event that you need to have your best smile on for!
Top-rated cosmetic dentist and smile artist Dr. Justin Russo has extensive hospital-based training in treating dental emergencies and offers same-day appointments for all dental emergencies.
What can I expect during my emergency dental visit with Dr. Russo?
We will thoroughly assess your pertinent medical history.
We will take any X-rays and photographs necessary to properly diagnose the problem.
We will triage the treatment, in order of importance, in writing and educate you on the pros and cons of treatment.
We will work with any dental financing companies, such as Lending Club or Care Credit, to provide you with a solution that can fit within your budget.
Dental emergencies often start with some mild pain and can rapidly escalate to severe pain if ignored. In cases when patients develop an infection, swelling can occur and can become a major health problem if left untreated.
Raleigh's own Dr. Justin Russo is here for you! Call Dr. Justin Russo at (919) 890-5147 the next time you need any emergency dental treatment.
It is our goal to optimize your dental wellness and keep you healthy, which is why it's critically important to have your teeth professionally examined and cleaned every six months. Regular dental examinations by Raleigh cosmetic dentist Dr. Justin Russo can help you stay ahead of any potential painful or embarrassing dental emergencies.
Your comfort is our priority.
At Russo Dentistry, we are very cognizant that patients do not like to get their teeth scraped, and in most cases, dental treatment can be performed with no or minimal discomfort. In our hygiene department, we offer the latest technology piezoelectric dental cleaning instruments that will allow for a quick and painless dental cleaning.
Did we mention that routine dental exams and dental maintenance can keep your costs down? Dr. Russo believes that "an ounce of prevention is worth more than a pound of cure".
Keeping regular dental maintenance can help you avoid paying for expensive dental insurance that comes with almost unlimited strings attached. Transition into low-cost, high freedom dental membership plans that have no restrictions and can get you the care you need on demand – without dealing with the hassle of an insurance company.
For Raleigh patients who want a permanent solution for missing teeth and do not want dentures or a fixed bridge, a dental implant is a great alternative.
What is a dental implant?
A dental implant is simply an artificial tooth root inserted into your jawbone to replace a missing tooth. Multiple dental implants can be used to replace fixed dental bridges or to replace an old denture. Dental implants are made from surgical-grade titanium and in 99% of the time integrate well into human bone.
The key to replacing missing teeth with dental implants is having a sufficient amount of bone to support a dental implant. If you have been missing teeth for long periods of time, eventually the bone will resorb, or disappear, under pressure from a denture. Dr. Russo works with the top Raleigh surgical and periodontal specialists, and can quarterback your implant procedure to get you the confident, healthy, permanent smile you deserve!
For patients without teeth, or would like to have their natural teeth extracted due to severe infection, dentures are a prosthetic replacement option to give you a natural-looking smile.
What are dentures?
Dentures are a type of replacement teeth that can be easily removed from the mouth for cleaning or repair. Raleigh Dentist Dr. Justin Russo offers both full and partial dentures, both of which can be used as a cost-effective way to replace several or all missing teeth at once. Dental implants can be placed strategically in your mouth to anchor a denture into place, ensuring it does not move around while chewing or speaking.
If you're missing teeth, a new denture is a simple way to enhance your facial appearance. Many who have dentures and feel like their cheeks droop or collect liquid in the crevices around their mouth may, in fact, be suffering from lack of bite height, cheek, and lip support. Having an ill-fitting denture can put awkward pressure on your remaining jawbone, causing it to disappear faster, all the while lessening your candidacy for dental implants. If you need a denture checkup, call Dr. Russo for an evaluation today!
Although there is no is no widespread recommendation stating that mercury-based dental fillings are unsafe, Raleigh cosmetic dentist Dr. Justin Russo takes a common sense dental wellness approach to mercury fillings and their usefulness. He believes that if you can't have mercury in lightbulbs because they are unsafe for landfills, then why would you want any form of mercury in your body, let alone your mouth?
Why mercury-free?
Highly aesthetic tooth-colored composite fillings will not only rid your mouth of mercury-based dental materials, they can make your smile look more natural and brighter! Raleigh's own Dr. Justin Russo can safely remove your mercury-silver fillings, and replace them with natural-looking composite fillings and metal-free porcelain crowns.
Dental financing options are available so that you don't have to wait for treatment and can find a payment plan that fits into your budget. Want to restore your smile? Call Dr. Russo today to schedule a consultation!
Have you ever seen unsightly looking crowns in peoples' mouths when you are having a conversation and wondered what that black line at their gumline is? It's metal.
"Old-school" crowns are made of a metal-based material coated in porcelain, AKA porcelain fused to metal crowns. Not only do these kinds of crowns look very chalky, cause a black line to form at the gums, and have a bulky appearance – the composition of the metal in the crown substructure can sometimes cause chronic gum inflammation in those that are predisposed to allergies, arthritis, or other types of inflammation.
"New-school" dental crowns are made of solid porcelain and provide excellent aesthetics and biocompatibility. Porcelain dental crowns are made from zirconia and lithium disilicate which closely mimic tooth enamel. Even if you are not seeking a high-end cosmetic smile enhancement, your Raleigh dentist Dr. Russo is totally committed to making even routine porcelain dental crowns look aesthetically pleasing and natural-looking.
Raleigh, Durham, and Cary are busy places. Life is stressful. Don't let life's stresses damage your teeth! Stress can cause you to clench and/or grind your teeth – a habit known as bruxism.
What does bruxism do to my teeth?
Bruxism is most damaging to your teeth and dental work, mainly at night when you sleep. A large portion of the population is unable to even tell that they clench their jaw at night. Over time, this pressure can cause significant damage to your teeth, including vertical fracturing, missing fillings, damaged crowns, crowns that are literally shattered and ripped off the teeth from this damaging preventable habit.
How can I protect my teeth at night?
You got it, you can protect your teeth from clenching and/or grinding with a custom-fitted night guard, AKA an Occlusal guard. Raleigh dentist Dr. Justin Russo can fabricate this guard for (you totally pain-free!) to help protect your valuable smile from further wear and tear. A night guard prevents the future need for aesthetic porcelain crowns, root canals, or even extractions. Dr. Russo can show you how a properly fitted custom night guard can also help relieve jaw pain, muscle spasm, and TMJ discomfort.
The American Academy of Pediatric Dentistry and the American Dental Association recommends your child's first dental visit should occur when his or her first tooth appears but no later than the 2nd birthday. At the University of North Carolina at Chapel Hill, Raleigh dentist Dr. Justin Russo received additional training to become baby oral health certified. For those pediatric dental patients who are not suited for general practice, or need extra care and attention, Raleigh dentist Dr. Justin Russo works with the best pediatric specialists in the Raleigh and Durham areas so your child will always remain properly cared for.
Three little words can strike fear into most dental patients: root canal therapy. But Raleigh cosmetic dentist Dr. Justin Russo wants you to know to have no fear.
The "new-school" root canal procedure has come a long way over the years. No longer do root canal procedures require many visits and hours of your mouth being held open! Dr. Russo educates his patients that a root canal, in reality, is simply a different kind of filling for your tooth.
If you get a cavity, Dr. Russo removes the decay and adheres to a permanent filling in its place. If that decay, irritation, or fracture extends and involves the nerve of your tooth, the pulp chamber (which holds the nerve of the tooth) needs to be cleaned out and a have a filling placed.
What should I expect?
Dr. Russo uses strategies to make performing root canal therapy a painless procedure. He first treats teeth with antibiotics to calm any acute infections and then utilizes anesthesia to ensure your comfort. Dr. Russo works with Raleigh's top endodontic specialists to treat teeth that have calcified canals thus requiring the use of a microscope to routinely complete.
The "Hey, I may need a root canal!" signs and symptoms
Spontaneous aching pain
Pain that lingers to hot and cold for longer than a couple of minutes
Pain that wakes you up in the middle of the night
Pain that over-the-counter pain relievers can't resolve
Fractured teeth requiring the use of the nerve chamber of the tooth to support a base for a crown
Teeth with old crowns that become symptomatic
Sharp pain when biting
Tooth that have experienced trauma
A tooth with extensive decay
A funny or unusual taste in your mouth
A pimple or bubble on your gum that comes and goes.
Your one-stop shop
In almost all cases, a tooth that requires a root canal requires a crown to prevent it from fracturing. For your convenience, Raleigh cosmetic dentist Dr. Justin Russo performs a root canal procedure at the same time he prepares the tooth for a crown, thus cutting down on your amount of required visits and missed time from work, or family.
Dr. Russo received exceptional training in endodontics from some of Connecticut's finest endodontic specialists during his honorary hospital-based residency. He performs root canal therapy routinely and in almost 100% of the cases in one visit!
If you were advised that you need a root canal or if you are experiencing any of the above symptoms, call Dr. Justin Russo today for a same-day evaluation and treatment at his Raleigh office. You can even prequalify for a payment plan that will fit your budget so you can receive this crucial treatment right now and not have to risk acute pain or severe infection.
Gum therapy AKA scaling and root planing sounds like a scary procedure – but this type of treatment is designed for you if you have been diagnosed with periodontal disease or chronic gum bleeding.
Every dental cleaning you have received in your life is from the gums-up since it is uncomfortable to clean the crevices between your teeth and gums. When bacteria and tartar get stuck in the crevices around your gums, or periodontal pockets, it becomes caked on your tooth and root surface for good.
Your body initiates an immune response to attack this debris, and in the process, breaks down the structure supporting your teeth in your jawbone. Over time, causes your teeth to become loose and fall out. This disease – periodontal disease – can be prevented and literally stopped in its tracks with some gum therapy.
What should I expect during gum therapy?
In order to clean the crevices around your teeth, you are anesthetized for your total comfort. This debris is removed by our superstar hygiene team and rinsed with an antibacterial rinse to jump start healing. Close monitoring is typically required for a period of time to ensure healing and disease stability.
…Did I mention that your breath will smell better?
Having bacteria persist in your mouth can present significant health problems, especially for those at risk of heart disease, inflammatory diseases, and diabetes. Raleigh dentist Dr. Russo has seen patients experience great strides in battling these diseases by reducing the chronic infection in your mouth.
Please do not hesitate to call Raleigh dentist Dr. Justin Russo right now for a same day evaluation and treatment at his Russo Dentistry office. You can even prequalify for a payment plan that will fit your budget through care credit or lending club so you can get this important treatment right now and not have to risk acute pain or severe infection.
Dr. Russo believes that daily brushing and flossing are important in maintaining healthy teeth. Still, many people have deep grooves in their back teeth (molars and premolars). No matter how many times you brush, you just cannot get a toothbrush bristle down into the grooves to remove the food debris. These teeth will eventually decay over time, requiring dental fillings, crowns, or even root canals.
Fortunately, we live in a day and age where dental cavities can be prevented with proper oral hygiene and the application of sealants on your back teeth, thus sealing off the grooves of the teeth. Not only do these dental sealants act as a barrier to help protect your teeth from plaque, decay, and cavities; they make your teeth easier to clean, too. Dental sealants are tooth-colored and are placed quicky, and painlessly in one visit!
Are sealants just for kids?
Sealants have historically been used in children and adolescents mainly because the procedure is covered by their dental benefit plans. However, Raleigh cosmetic dentist Dr. Justin Russo believes that adults, too, can benefit from sealants.
Don't wait for a problem to occur, prevent it from happening!
Would you rather seal off a groove to prevent decay or wait for it to decay and get a filling? Dr. Russo believes that the path to total dental wellness requires prevention of disease, as well as early treatment to prevent more serious problems.
Do you want to see how sealants can step up your decay prevention plan and overall dental health? Call Raleigh dentist Dr. Justin Russo today to schedule your same-day evaluation and treatment! You can even prequalify for a payment plan that will fit your budget through Care Credit or Lending Club.
Hey, let's face it – sometimes teeth have to go. Raleigh dentist Dr. Justin Russo has the significant surgical experience and has extracted thousands of teeth! If you are facing the end of the line for a tooth, look no further than Dr. Russo. In most cases, this procedure can be performed painlessly if any previous infection is treated first medically with an antibiotic.
Why would a tooth need to be extracted?
For orthodontic purposes
Extensive decay making repair impossible
Catastrophic tooth fractures due to clenching and grinding
Trauma
Impactions
Patient desires
Severe gum disease
Root canals with refractory infections
I'm hesitant…
Don't worry! For those patients who have high anxiety, Dr. Russo can administer nitrous oxide (more commonly known as laughing gas) to help you relax, and/or relaxation therapy with anti-anxiety medication.