Everybody wants brighter, whiter teeth! Even people who take excellent care of their oral hygiene will experience a loss in tooth brightness over time. Your morning coffee or tea, acidic foods, and medications can all make your teeth darker than you'd like. Dental trauma beneath the enamel can also lead to a lack of brightness, or you could simply be losing enamel with age. Whatever the case may be, Dr. Russo and the team at Russo Dentistry can help bring the sparkle back to your smile.
Although there are a number of over-the-counter whitening options available at your local drugstore – including toothpastes, gels, and adhesive strips – they're not as likely to give you the results you're looking for. It may also be the case that you aren't as comfortable with DIY whitening solutions and you'd prefer to work with dental healthcare professionals. We understand! At Russo Dentistry, we're proud to offer our patients the very latest in whitening technology: Zoom teeth whitening.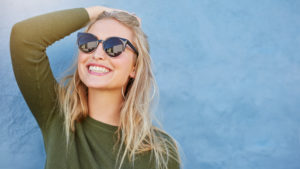 What is Zoom?
Zoom is a revolutionary whitening procedure that gently whitens your teeth in no time flat. We use a pH balanced hydrogen peroxide gel that, when activated by the Zoom blue light, breaks down stains. With Zoom's WhiteSpeed technology, we're able to whiten your teeth by eight shades in just 45 minutes. In many cases, your teeth will whiten even more in the first few days after the procedure!
Does Zoom hurt?
This varies by patient, but Zoom has been developed to be as gentle as possible. If you have sensitive teeth and gums, you might experience some discomfort. The procedure may make your teeth more sensitive, so you may wish to use a toothpaste like Sensodyne afterward and avoid especially hot or cold foods.
Is Zoom permanent?
No, but there are steps you can take to make the whitening last longer! First and foremost, it's crucial to keep up with healthy oral health habits, like regular brushing and flossing. Now that you've made an investment in your smile, you'll want consume food and drinks that might harm it – like dark or acidic foods, coffee, black tea, and wine – in moderation. We'll also give you a touch-up kit that will help with maintenance.
Is Zoom right for me?
If you're interested in tooth whitening, the first step is an evaluation with Dr. Russo. You'll be able to discuss your questions and concerns with him, and from there, we'll help you decide on the right whitening procedure. We don't recommended Zoom for pregnant or lactating women. Zoom only whitens tooth enamel, so if you have crowns or fillings, let us know so we can discuss your other options.
Ready to take the next step? Russo Dentistry can't wait to help you fall back in love with your smile. Contact Raleigh's top cosmetic dentist to learn more!