Everyone wants a straight, pearly white smile, but it's not always easy to achieve on your own. Believe it or not, attaining this perfect Hollywood smile is easier than you think, as long as you find the right professionals to help you along the way. Cosmetic dentists focus on the aesthetics of your teeth and have several simple procedures and techniques that they can perform to help people enhance their smile.
One way to get the smile you've always wanted is through porcelain veneers. A thin layer of porcelain that looks similar to your natural tooth enamel is custom-fit to act as a shell and is placed over the front surface of your tooth. Your facial features, tooth structure, and color differentials are measured and taken into consideration before the porcelain shells are made and bonded to your teeth, so they're completely customized for your smile.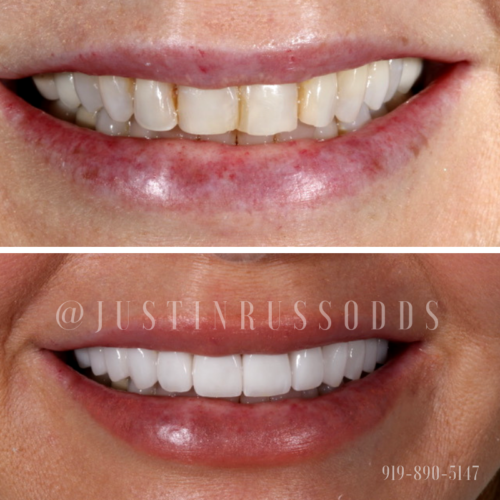 Benefits of Porcelain Veneers
Porcelain veneers are used mostly for aesthetic purposes and will enhance your smile so that you can have the beautifully white, straight teeth you've always wanted.
Beyond improving the appearance of your smile, porcelain veneers can correct several different dental problems, such as:
Crowding

Spacing

Stains or worn coloring

Tooth asymmetry

Worn or cracked teeth
What are Press-On Veneers
For those wanting to enhance their smile but can't afford porcelain veneers, press-on veneers are a more affordable alternative.
Like real porcelain veneers, press-on veneers — also known as "Lumineers" or "no-prep veneers" — are designed to enhance your smile. They are custom designed to fit over your teeth based on your facial features and tooth size and shape; however, they are more temporary than porcelain veneers and clip on to your teeth.
Since press-on veneers are not as permanent as real porcelain veneers, they are less expensive and made from a different material. While the lower price may be enticing, keep in mind that discounted products typically won't last as long or give you the same look of more expensive options. Sometimes press-on veneers can look bulky or square, especially if your exact specifications weren't taken into account. In order to cut down on the cost, some press-on veneers forego artistic adjustments and go for a one-size-fits-all approach, which doesn't always end up with stellar results.
What to Consider Before Deciding Between the Two
Deciding between real porcelain veneers and press-on veneers can be hard — especially if price is a concern. Many people choose press-on veneers simply because porcelain veneers are too expensive, but if they are not careful, this decision could lead to a botched result.
Press-on veneers can end up having a "chicklet" appearance because of their one-size-fits-all approach. On the other hand, porcelain veneers are specifically designed to fit your teeth perfectly. Even though they are more expensive, porcelain veneers are custom-made to the exact specifications of your teeth and blend in perfectly. Dr. Justin Russo of Russo Dentistry is a cosmetic dentist in the Raleigh and Durham, North Carolina areas who designs and places porcelain veneers for people who want to enhance their smile. With his porcelain veneers, Dr. Russo pays special attention to every detail and adds artistic adjustments to shape the veneers for each individual tooth perfectly.
If price is an issue, and you'd rather take the risk with press-on veneers, keep in mind that what you pay for is the quality you receive. Real porcelain veneers are customized to fit your teeth and perfectly enhance your smile.